Guest Post: Help Build African Revolution
On
All African People's Revolutionary Party – Oregon is sending organizers to Tanzania for 2 weeks this December to build with African revolutionaries and provide support for anti-imperialist organizing work on the African continent. This trip will not only directly connect our work in the US to resistance to capitalism and colonialism in Africa, it will also strengthen the skills and analysis of our members – greatly advancing the work of our organization. Travel will be expensive – roundtrip tickets cost $1600 per person – so we're reaching out to our community for support.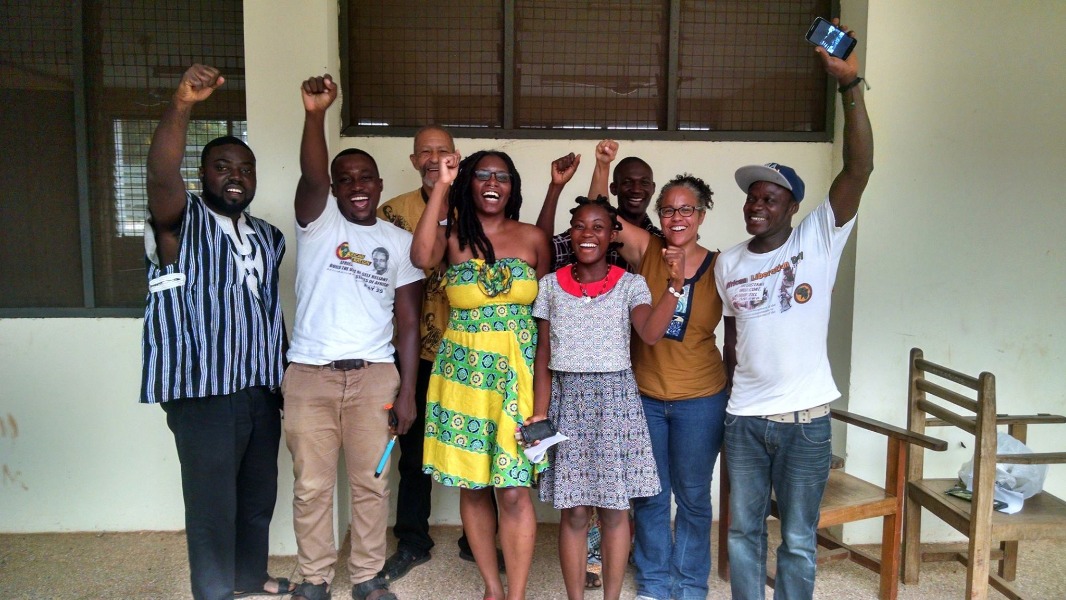 AAPRP Oregon chapter meets AAPRP Takoradi chapter in Ghana.
AAPRP Oregon  is a proud chapter of the All African People's Revolutionary Party, a revolutionary pan-African socialist party based on the African continent with chapters all over the world. The All African People's Revolutionary Party is organizing for the liberation and unification of Africa under scientific socialism and the overthrow of capitalism and colonialism worldwide.  Why? Because Africa has acres and acres of fertile land and endless supplies of oil, gold, diamonds, and every other valuable natural resource one can imagine. Yet, African people are forced to endure poverty, oppression, and violence no matter where we exist in the world because of capitalist domination and exploitation. Under a socialist system, the wealth of Africa will not be stolen and hoarded by greedy corporations and a handful of billionaires. Instead, Africa's  wealth – all of it's land and all of it's resources – will be placed in the hands of the masses of African people. This will mean that when Africans need medicine, we can get medicine. When we need education,  we can build good schools. When we need housing, housing will be available.When Africa is free every person of African descent everywhere on earth will finally be free as well.
AAPRP Oregon engages in revolutionary organizing throughout Oregon and the Pacific Northwest. Our work includes a weekly free breakfast program  for children in North Portland, a community run school – The School of African Roots – for youth in St. Johns, Fourth of the Lie, Pan-African Women's Day, a monthly pan-African film series, and frequent workshops, discussions, and special events focused on educating communities in Oregon about Africa, the capitalist system that oppresses the masses of poor and working class people worldwide, and the collective power we all have to smash that system and build something better together.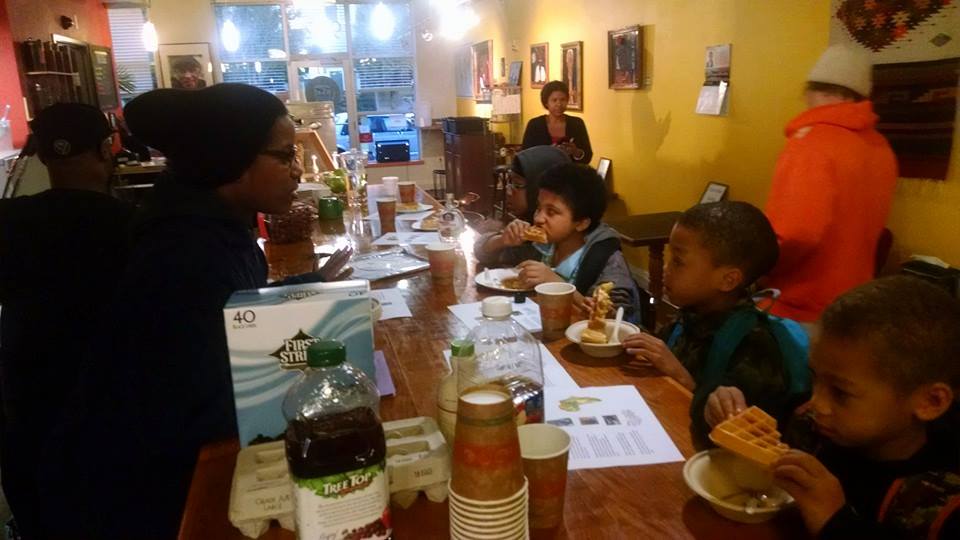 The AAPRP breakfast program in New Columbia.
AAPRP Oregon is committed to building international working class solidarity. We maintain strong relationships with many organizations struggling against capitalism and colonialism including: the Nation of Islam, the Portland Committee for Human Rights in the Philippines, Students United for Palestinian Equal Rights, Serve the People Portland, and the American Indian Movement.  AAPRP Oregon also helped found the Marilyn Buck Abolitionist Collective, a group of anti-racist, anti-capitalist white working class revolutionaries organizing folks of European descent against the American empire and white supremacy.
With our comrades from the Portland Committee for Human Rights in the Phillippines .
We actively contribute to actions and campaigns organized by oppressed peoples resisting capitalism and colonialism. We support movements like the September 9th National Prisoner Strike, eviction resistance, and Black Lives Matter. We provide security at rallies, marches, direct actions, and white ally workshops in the heart of rural Oregon. We're core organizers with the Portland May Day Coalition and have helped coordinate Portland's May Day rally and march for the past several years.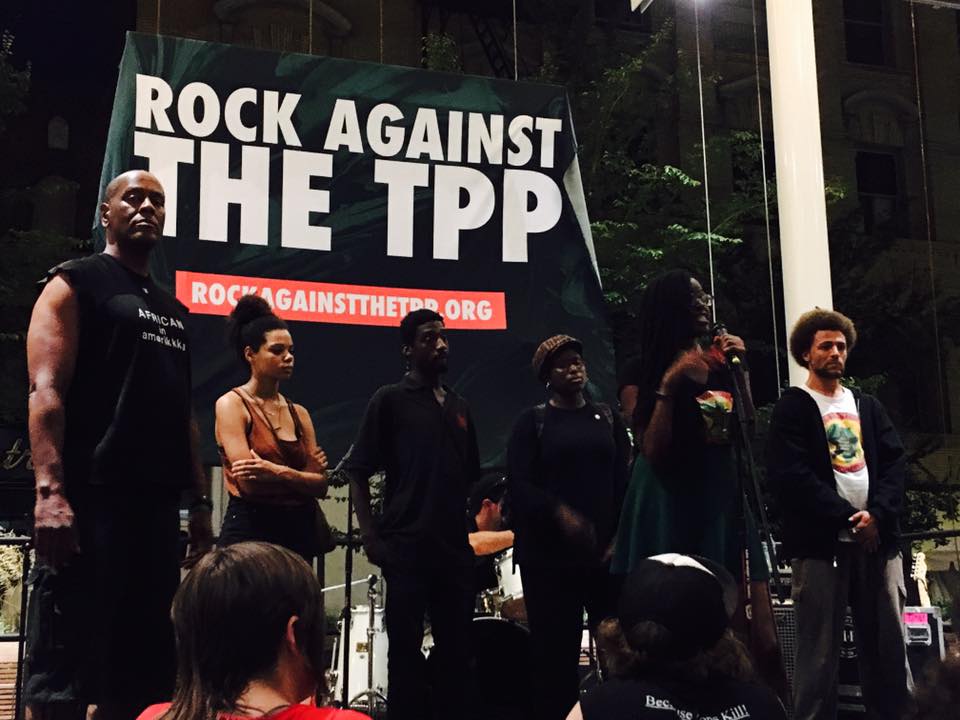 Speaking out against the Trans Pacific Partnership at Rock Against the TPP  in Portland.
AAPRP Oregon is not a 501c3. We are not funded by any local, state or national government agency. We are entirely grassroots and our work is often paid for out of our own pockets. We do this work for free because we are  dedicated to building the power and capacity of our people to overthrow capitalism, imperialism, and colonialism.
Support African revolution! Support resistance to capitalism and colonialism! Thank you and forward to pan-Africanism!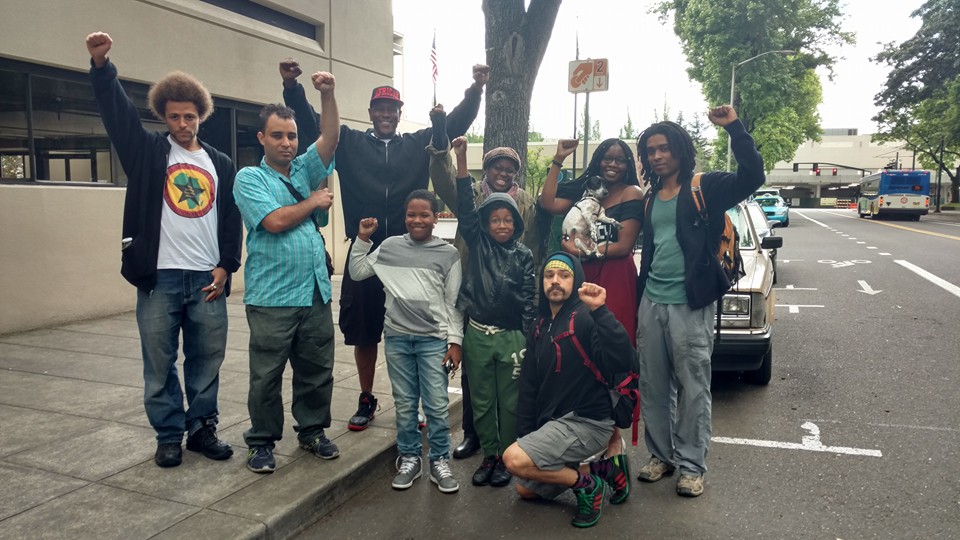 On our way to African Liberation Day  in Oakland, CA with children from the breakfast program.